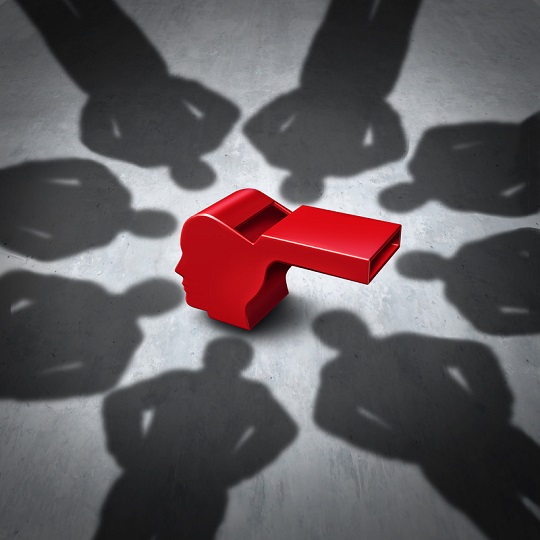 In a recent Memorandum Opinion, T.S. Ellis, III, U. S. District Judge for the Eastern District of Virginia, has ruled that the retaliation provision of the False Claims Act ("FCA") does not permit a whistleblower plaintiff to sue individual employees of a corporate employer. 
In Irving v. PAE Government Services, Inc., et al., No. 1:16cv1617 (E.D. Va. Apr. 11, 2017), plaintiff was a former Deputy Program Manager and Chief of Security for defendant PAE Government Services, Inc. ("PAE") in Kabul, Afghanistan. Plaintiff had repeatedly complained to senior-level employees at PAE about various violations of the FCA that he claimed to have observed, including fraudulent billing, misuse of government equipment, failure of PAE to issue proper weapons and equipment, and PAE's procurement of non-compliant body armor. After raising these concerns he was terminated, and thereafter brought suit against PAE and several of the executives to whom he had complained, claiming, among other things, that he was terminated in retaliation for reporting the alleged violations of the FCA. In response, PAE brought a partial motion to dismiss that advanced three arguments, one of which was that the FCA's retaliation provision provides a cause of action only against a plaintiff's employer, not against the employer's individual employees. A bit of background on the relevant provision of the FCA is helpful to understand why this was a question that needed to be resolved by a judge.
Prior to 2009, the whistleblower provision of the FCA read as follows:
Any employee who is discharged, demoted, suspended, threatened, harassed, or in any other manner discriminated against in the terms or conditions of employment by his employer because of any lawful acts done by the employee on behalf of the employer or others in furtherance of an action under this section…shall be entitled to all relief necessary to make the employee whole. 
31 U.S.C. § 3730(h) (2003) (emphasis added). However, in 2009 the whistleblower provision was amended (the "2009 Amendment"), and currently provides that:
Any employee, contractor or agent shall be entitled to all relief necessary to make that employee, contractor or agent whole, if that employee, contractor or agent is discharged, demoted suspended, threatened, harassed, or in any other manner discriminated against in the terms and conditions of employment because of lawful acts done by the employee, contractor or agent or associated others in furtherance of an action under this section or other efforts to stop 1 or more violations of this subchapter.
31 U.S.C. § 3730(h)(1) (emphasis added). As Judge Ellis observed, the 2009 Amendment expanded the classification of individuals who could sue for relief under the FCA whistleblower provision from "employee" to "employee, contractor, and agent," and eliminated the reference to "employer."  In response to PAE's argument that plaintiff could only sue the employer, not the employees, plaintiff argued that the 2009 Amendment, eliminating the language "by his employer" and adding contractors and agents as potential plaintiffs, necessarily broadened the universe of individuals who may be sued under the FCA whistleblower provision. 
In his opinion, Judge Ellis observed that the 2009 Amendment was in part enacted to address fraud and abuse arising from government contracting activities in Iraq and Afghanistan, which activities involved extensive use of independent contractors who, in turn, often engaged subcontractors. Thus, Congress determined that independent contractors and agents needed to be afforded whistleblower protection to ensure that fraud against the government observed by them could be reported without fear of retaliation. However, while the Congress expanded the list of potential plaintiffs, the 2009 Amendment is silent as to who may be sued by this expanded list of potential whistleblower plaintiffs, a fact which the plaintiff in Irving sought to exploit to his benefit. In his analysis, Judge Ellis looked to the statutory text, the legislative history and the history of the application of the FCA. Judge Ellis noted that by omitting the phrase "by his employer," Congress was simply recognizing that the added entities (independent contractors and agents) are not controlled by "employers," therefore, in order to include them as entitled to relief, the "employer" restriction had to be eliminated. 
In addition, there is nothing in the amended text that permits a corporate employee to sue his co-workers or individual supervisors for retaliation. Accordingly, Judge Ellis reasoned that if Congress had intended to overrule the long line of cases in other courts that have held that only employers, and not individual employees, could be sued under the FCA for retaliation, it would have expressly addressed such a major change in the 2009 Amendment, and such a change could not be inferred from the amended language. 
Finally, the Court pointed out that the remedies afforded an aggrieved plaintiff under the FCA whistleblower remedial scheme are inconsistent with a cause of action against individual co-workers or supervisors. For example, § 3730(h)(2) provides for the remedies of reinstatement and back pay, which can only be provided by an employer, not a plaintiff's supervisors or co-workers in their individual capacities. Thus, Judge Ellis took this as "a clear signal from Congress that plaintiffs cannot invoke § 3730(h) to sue corporate employees in their individual capacities." Irving v. PAE, supra, at p. 10 of 17. For all of the reasons enumerated by the Court, Judge Ellis held that the FCA, both before and after the 2009 Amendment, precluded as a matter of law individual liability for corporate employees in FCA whistleblower cases, and he dismissed the claims against the individual defendants. 
As the Irving case demonstrates, resourceful plaintiffs' counsel are always searching for ways to expand the universe of coverage and the scope of remedial statutes such as the FCA whistleblower provisions. It should be a source of comfort to government contractors, as potential defendants in such cases,  that triers of fact are charged with reviewing the legislative history to ascertain Congress' intent, analyzing the applicable case law for analogous precedent, and applying logic and common sense in "faithfully and impartially" determining such issues.
About the Author: Paul Mengel is counsel with PilieroMazza and leads the Litigation Group. He can be reached at [email protected].