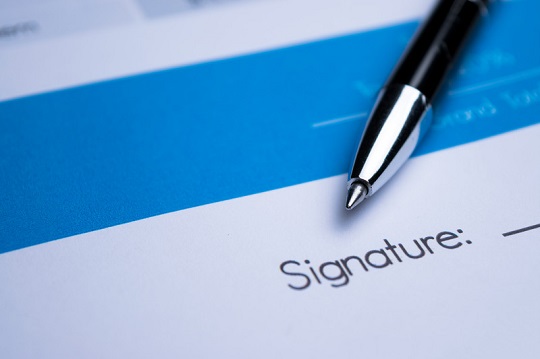 Though we live in the electronic age, the pen's power endures in the government contracts world—at least when it comes to signatures for certified claims. The Armed Services Board of Contract Appeals ("ASBCA") recently held that it could not hear a contractor's appeal under the Contract Disputes Act ("CDA") for some of its claims worth over $100,000 because the certified claims that the contractor submitted contained typewritten names on the signature lines. Instead of putting pen to paper or affixing an electronic signature, the contractor typed in someone's name. Worse, ASBCA also held that the contractor could not sign the documents after submitting the appeal, ending the appeal for those claims. 
Although some may see the lack of a "proper" signature as a technicality, ASBCA's decision demonstrates that "technicalities" can have a big impact. Among other things, to certify a claim worth over $100,000 under the CDA, the FAR requires an authorized party to physically sign or affix their electronic signature to the document prior to submission. The contractor missed that step, and ASBCA reasoned that typewritten names do not provide any proof that an authorized representative actually signed the document. Basically, anyone can type a name, but a signature serves as a fingerprint and provides assurance that an authorized person approved the claim.
While typing in a name does not comply with FAR, this practice has arguably—and quite reasonably—become commonplace across all areas of life as courts and parties alike increasingly turn to the Internet to file documents. Do not make that mistake when certifying claims under the CDA worth over $100,000. Instead, remember that when submitting a claim to a contracting officer under the CDA, a person with authority must purposively and knowingly affix their signature. 
Interestingly, the FAR also contemplates "electronic symbols," but ASBCA did not delve into whether electronic signatures satisfy FAR. That said, electronic signatures almost certainly qualify as an electronic symbol, as ASBCA has held in other cases. But they raise their own security risks and cast some doubt as to who put the signature on the document. 
When it comes to certifying claims under the CDA worth over $100,000, as a best practice, contractors should physically sign the document. This complies with FAR and erases any doubt as to who signed the document. Moreover, it could save you a lot of money and only requires the mere stroke of a pen.
About the authors: Tony Franco is a senior partner with PilieroMazza and oversees the Government Contracts and Small Business Programs groups. He may be reached at [email protected]. Tim Valley is an associate with PilieroMazza in the Government Contracting and Litigation Law groups. He may be reached at [email protected].