By Katie Flood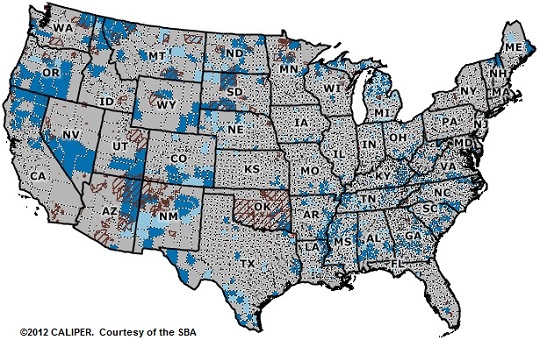 Good news for many HUBZone (or HUBZone-interested) firms:  The SBA has just announced that 104 non-metropolitan counties have been designated as newly qualified HUBZones or have had their redesignation periods extended, based on 2013 unemployment data recently released by the Bureau of Labor Statistics.
While the SBA has provided the new information on the counties in the form of PDF and Excel documents, the HUBZone maps have not yet been updated.  However, simply because the map has not been updated would not prevent a contractor from applying to the program based on any changes to the county designations that are reflected in the spreadsheets.
Unfortunately, the newly released data also indicates that 34 counties that were previously qualified by unemployment have become redesignated until May 2017.  This means that they will lose their HUBZone designated status in May 2017, and will no longer count as HUBZones.  There is no immediate impact, however, if you are currently relying on these counties for your HUBZone eligibility.  If you're a qualified HUBZone contractor, it's important for your business planning purposes to be aware of the future changes to the HUBZones upon which you rely for qualification purposes.
Maintaining HUBZone compliance once you are in the Program is one of the trickiest aspects of being a HUBZone contractor.  If you are currently struggling to maintain the 35% HUBZone employee residency requirement, it could be worthwhile to check the newly designated HUBZone counties to see if any of your current employees reside in one, or if you should be targeting employee recruitment in these new areas.  This may also be a good time to perform an internal audit of your HUBZone eligibility.  Make sure that you keep your HUBZone files up to date, and have current, unexpired licenses on file for all of your HUBZone employees.  Simple internal checks and preventative measures will ensure that you're not caught flat-footed in case of a HUBZone protest. 
About the Author:  Katie Flood is an associate with PilieroMazza in the Government Contracts Group. She may be reached at [email protected].