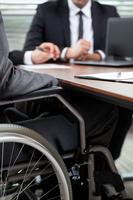 An employee asks for over 12 weeks of leave for an illness under the Family and Medical Leave Act (FMLA)—does this also constitute a request for accommodation under the Americans with Disabilities Act (ADA)? The interplay between the ADA and the FMLA presents significant challenges for employers as the company grows. Employers with more than 15 employees must comply with the ADA, while employers with more than 50 employees must comply with both the ADA and the FMLA. Both require employers to provide work leave for various situations—a right which employers almost universally provide, regardless of size. However, the regulations of the two statutes do vary, despite a substantial overlap. Employers often find navigating these various regulations difficult, but they can take steps to ensure compliance with both. 
Generally, the ADA requires employers to provide reasonable accommodations for employees with disabilities unless the accommodation would cause an undue hardship. The ADA defines disability broadly and the bar to establish undue hardship has gotten progressively higher. Leave, whether paid or unpaid, may constitute a reasonable accommodation. Similarly, under the FMLA, eligible employees have a right to take up to 12 weeks leave for their own serious health conditions or that of a family member. The FMLA provides for specific amounts of leave while the ADA requires reasonable accommodations without any established minimums for leave. Both statutes have specific regulations regarding how and when an employee can request leave and employers can obtain medical information. Sometimes both laws apply to an employee's leave request, or continued leave request, particularly if a serious health condition also constitutes a disability. 
Employers generally run afoul of one or both of these laws when they maintain or apply workplace policies that are overly restrictive. Examples include leave policies that cap leave at a certain level or have strict parameters. Other challenging situations arise when employees returning to work require reassignment, further accommodations, or when employers require employees to be completely recovered before returning to work. Put simply, limiting leave to the minimum requirements of the FMLA could result in ADA violations. For example, an employee with a serious health condition has used all of their FMLA leave, but requests two more weeks of leave to recover. When considering whether to grant the request, employers must determine whether the employee's disability qualifies under the ADA and whether the requested accommodation of additional leave is reasonable. In other words, the ADA requires modifications of existing policies, even if they comply with the FMLA. 
The following preventative measures will help you minimize liability in these types of situations.
Communicate Effectively. Employers should engage with employees throughout the process—from leave, during leave, and upon an employee's return. These conversations may include discussions about the appropriate reasonable accommodation, not just what the employee requests. Employers should also inform employees of their respective obligations. 
Under the ADA, employers must engage in an interactive process to figure out how to reasonably accommodate a disability. Similar discussions happen with the FMLA. The employer should speak with the employee to figure out which statute applies. Employers should also consider leave requests for nonobvious disabilities and serious health conditions concerning mental health the same way they would consider something more obvious, like a surgery for a herniated disc. Notably, effective communication does not require extensive medical information. Indeed, requesting too much information could result in ADA and FMLA violations. Instead, employers should focus on the reasons the employee needs to take leave, when the leave will occur, and when the need will end. 
Get Informed. Employers should learn about their obligations and their employees' rights under the ADA and the FMLA. This includes staying up to date on federal and state obligations. State laws are often more complex and arduous than their federal counterparts, but never less. Once informed, employers should educate managers, supervisors, and HR personnel. Employees often turn to these sources for information regarding their rights and this typically commences the applicable process under either statute. 
Update Handbooks and Policies. Employers can use handbooks and policies to communicate with and inform all of their employees of the FMLA and ADA policies. Employers should update their handbooks to comply with federal and state laws regarding the ADA and the FMLA. Handbooks should contain information regarding when the statutes apply, employees' rights under both statutes, and points of contact for requests. Additionally, other leave and return to work policies should be exampled to ensure that they do not run afoul of either law. 

Get Organized. Whether employees make a request under the ADA or the FMLA, employers will likely have to review sensitive medical information and various forms. Employers should establish procedures and secure spaces to store information to comply with regulatory obligations for both statutes. This could include appointing specific individuals to process and monitor leave requests. 
With these strategies in mind, among others, you can approach these difficult situations with confidence. However, even the most prepared and knowledgeable employer will run into a situation implicating the ADA and FMLA that requires assistance. In those situations, having outside counsel review and provide advice will grant you additional peace of mind that you made the right call and will minimize the risk of a claim. 

ABOUT THE AUTHOR: Tim Valley is an associate with PilieroMazza in the labor and employment, government contracts, litigation, and business and corporate practice groups. He may be reached at [email protected].