By Corey Argust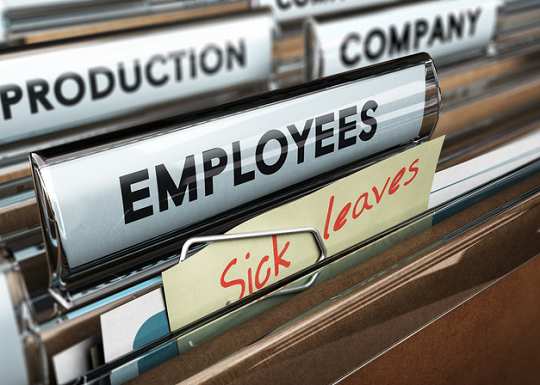 For employers, it seems like every time you turn around there is a change in the law or regulations to add to the list of compliance challenges. Federal contractors can now add paid sick leave to that list. On February 25, 2016, the Department of Labor ("DOL") released its proposed rule for providing employees working on federal contracts with sick leave. The proposed rule would implement Executive Order 13706, which President Obama signed on September 7, 2015.
Under the DOL's proposed rule, eligible employees working on or "in connection with" a covered federal contract  would earn one hour of paid sick leave for every 30 hours worked, up to 56 hours in a year. Employees must be allowed to use their sick leave for a number of reasons including:
For an employee's physical or mental illness, injury, or medical condition;
To obtain diagnosis, care, or preventive care from a health care provider;
To care for a family member who has an illness or needs medical care; or 
Because of domestic violence, sexual assault, or stalking, or to obtain social or legal services related to such circumstances.
Covered contracts include (1) contracts that incorporate the Davis-Bacon Act ("DBA") or the Service Contract Act ("SCA"); (2) a contract for concessions, including concessions contracts excluded from coverage under the Service Contract Act by DOL regulations; or (3) a contract in connection with federal property or lands and related to offering services for federal employees, their dependents, or the general public.
The new rules will only apply to "new contracts," meaning solicitations issued on or after January 1, 2017, or contracts awarded outside the solicitation process on or after January 1, 2017. That said, the rule contemplates that existing contracts may be modified bilaterally to include the new rule. As is most often the case, prime contractors are responsible for flowing down the new rule to subcontractors at any tier.
Under the proposed rule, employees are entitled to earn sick leave if their wages under the covered contract are governed by the SCA, DBA, or Fair Labor Standards Act ("FLSA"). This essentially means that all contract employees, hourly or salaried, and those performing work "in connection with" a covered contract must receive sick leave benefits. "In connection with" means that even those employees not directly engaged in the performance of the specific work called for by the contract, but who nevertheless perform work duties necessary to the performance of the contract, such as an administrative employee working at company headquarters, would be covered by the proposed rule if they perform those duties for at least 20 percent of their work time.
Contractors must permit eligible employees to accrue at least one hour of paid sick leave for every 30 hours worked or may provide employees with 56 hours of paid sick leave at the beginning of each accrual year. Employers may choose when to begin an accrual year so long as the date chosen is not selected to avoid paid sick leave requirements  Accrued sick leave may be capped at 56 hours per year, but unused sick leave must be carried over from year to year.
The proposed rule also allows contractors to cap an employee's "sick leave bank" at 56 hours, thereby limiting the amount of sick leave available for use at any point in time to 56 hours. Keep in mind that the sick leave must be provided in addition to any other leave required by law, such as vacation allocation under the SCA. This limits the ability of certain contractors to provide for this leave as part of its normal paid time off policy.
The proposed rule would not require employers to pay employees for any unused sick leave when the employee is terminated or leaves their position. Nevertheless, if a covered contractor rehires an employee within 12 months of separation, the employee's unused sick leave must be reinstated. Contractors should be aware that the rules prohibit them from interfering with, or discriminating against, employees for taking, or attempting to take, paid sick leave or for informing other employees about their rights to paid sick leave. This is not a high standard and the rule specifically defines interference to include miscalculating leave or unreasonably denying or delaying the provision of leave. Proposed remedies and sanctions for violations include employee reinstatement or promotion, compensation for unpaid leave, restoration of leave, liquidated damages, and debarment.
Public comments on the proposed rule may be submitted until April 12, 2016, with the DOL aiming to publish a final rule by September 30, 2016. While it is still unclear whether any major changes will be made to the proposed rule, employers should begin preparing now to ensure their sick leave policies will comply with the law when the final rule goes into effect.
These new requirements will likely result in a significant change to many contractors' paid leave policies so implementing a policy compliant with the final rule may prove challenging. If that is the case for your company, PilieroMazza offers tailored advice to minimize the risk that contractors' leave policies will run afoul of the law.
About the Author: Corey Argust is an associate with PilieroMazza in the Labor and Employment, Litigation, and Government Contracts groups. He may be reached at [email protected].