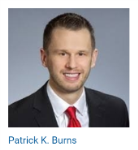 Patrick Burns has successfully represented commercial businesses in a variety of litigation matters, in both state and federal courts, involving a diverse range of issues, such as employment, wage and hour disputes, defamation, corporate defense litigation, class action defense, and contract disputes.  Adept at handling matters through all phases of litigation and alternative dispute resolution, Mr. Burns works closely with small and large business clients to develop strategies that protect them and their corporate interests.   Chair of the firm's Litigation Group,
Matthew Feinberg
, remarked "
Patrick's substantial experience as a trial attorney and his strategic approach to resolving disputes make him a great addition to our group.
"  
While Mr. Burns has substantial experience working with clients across many industries, his practice has a particular focus on the construction and franchise industries.   At PilieroMazza, his practice will expand to include representing government contractors in a wide variety of business disputes, as well as bid protests at the Government Accountability Office and the Court of Federal Claims and appeals before the Armed Services and Civil Boards of Contract Appeals.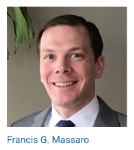 Francis Massaro assists with a variety of business and financial matters, including mergers and acquisitions, entity formation, and general corporate matters. His work includes assisting with the drafting of acquisition agreements, organizational documents, contracts, and corporate governance documents.  "
Our clients will benefit from Frank's government background which gives him valuable insights into how laws are made and administered
," said
Kathryn Hickey
, Chair of the firm's Business & Transactions Law Group.  "
We're excited to have him on our team.
"
Prior to joining PilieroMazza, Mr. Massaro was an attorney at the Administrative Conference of the United States, where he oversaw research projects on regulatory legal issues. Mr. Massaro also worked as an attorney at the Social Security Administration, where he evaluated appeals in disability claims and worked on projects concentrating on regulatory and policy compliance. Previously, he worked as a judicial clerk for the Honorable Warren Krug in the Circuit Court for Calvert County, Maryland.