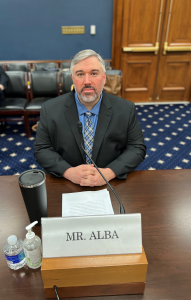 On June 14, 2022, PilieroMazza's Isaias "Cy" Alba, a partner in the Firm's Government Contracts Group, testified before the House Committee on Small Business to advocate for the rights of small business government contractors in procurement contracts. Specifically, the hearing examined governmentwide contracts, including the Best-In-Class (BICs) contracts that originate from the Category Management initiative, and assessed their impact on the federal small business base. In his testimony, Cy discussed potential solutions to reduce the barriers to entry for small businesses as it pertains to such contracts. To view the full testimony, visit this link, and to read the full transcript, visit this link.
For additional media coverage on Cy's testimony, please visit the links below:
Committee on Small Business: Velázquez Surveys the Impact of Governmentwide Contracts on Small Businesses
About Cy Alba
Cy counsels clients on a broad range of government contracting matters before government agencies and federal courts, which includes overall regulatory compliance with the Small Business Administration's (SBA) small business programs. He represents small and mid-sized government contractors looking to structure compliant teaming, joint venture, and mentor-protégé agreements. Cy also handles the prosecution and defense of small-business size and status protests; appeals before the SBA and the Office of Hearings and Appeals; as well as bid protests before the Government Accountability Office, the Court of Federal Claims, and the U.S. Court of Appeals for the Federal Circuit.
About PilieroMazza's Government Contracts Group
PilieroMazza is proud of its reputation as the go-to law firm for contractors navigating the complexities of doing business with the federal government. It's a distinction we've earned by shaping the future of federal procurement law through the cases we pursue, by interacting with key government decision-makers, and by testifying before the U.S. Congress. Our attorneys resolve issues for government contractors in a thoughtful, thorough manner that considers all aspects of their business. This holistic approach, attention to detail, and dedication to personalized client service, combine to create exceptional value for our clients.