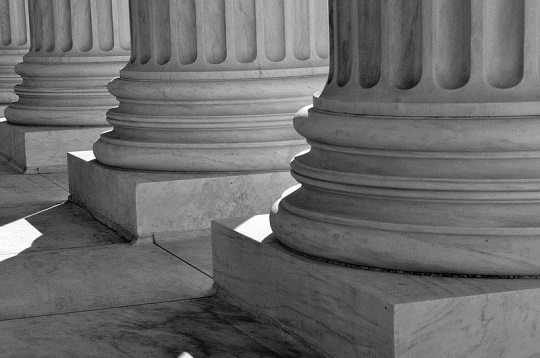 Since I work with a number of construction contractors, I always get the question of whether the state law chosen to govern the contract has material impact on the contract and/or whether it could be determined which state laws would be best for our client.  For instance, Colorado has a law restricting a prime contractor's ability to disallow receivable financing (such as "Factoring"), and Virginia law prohibits revising (or "Blue Penciling") restrictive covenants in agreements which are found to be overly restrictive – instead they are just removed in their entirety.  Depending on the contract, these can be important considerations when choosing which law should apply to a given contract.  A recent case has, however, made it clear that you can't avoid the Miller Act regardless of whether the state law seems to allow such avoidance.
In a decision released earlier this week, the 9th Circuit Court of Appeals found that a California law restricting non-licensed contractors' rights to sue for collection of unpaid services did not apply when the bond claim was properly brought under the Miller Act for work performed on a Federal building or public work.  This ruling is consistent with Supreme Court precedent regarding state law applicability to other federal laws (such as the Federal Employer's Liability Act), but it was a matter of first impression for the well known, and often influential, 9th Circuit.  
Thus, regardless of whether state law has additional restrictions on subcontractors or additional protections for prime contractors, it is likely that most courts across the country will find that the rights granted contractors under the Miller Act trump state law restrictions.  Contractors should make sure that they did not use a state law, similar to California's, in an attempt to protect themselves from Miller Act claims, while at the same timesacrificing other protections under other state laws without certain subcontractor restrictions.  Now that it is likely no Miller Act restrictions will survive a direct challenge, a contractor who sacrificed other beneficial provisions to gain those restrictions will be left wanting once a court reads the restrictions out of the contract.
See Technica LLC, for the use and benefit of the United States v. Carolina Casualty Insurance Company, 9th Circuit No. 12-56539, April 29, 2014.
About the author: Cy Alba is a partner with PilieroMazza and is a member of the Government Contracts and Small Business Programs Groups.  He may be reached at [email protected].