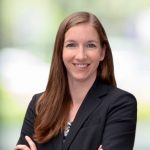 PilieroMazza is pleased to announce that Jackie Unger has been elevated to Counsel in the Firm's Government Contracts Group effective September 1, 2020. The Group's Practice Chair, Tony Franco, said: "Jackie is one of our most talented government contracts attorneys. She possesses a keen understanding of complex concepts and is adept at spotting very nuanced legal issues for our clients.  Jackie is a key member of our team and well-deserving of this promotion."
Jackie represents clients in a wide variety of government contracting and general business issues. She offers legal guidance to clients in bid protests at the Government Accountability Office and the Court of Federal Claims, size and status protests before the Small Business Administration, and appeals before agency Boards of Contract Appeals. Jackie counsels clients on FAR and small business regulatory compliance issues, as well as claims, requests for equitable adjustments, and contract disputes with the government and with teaming partners. She also assists clients in investigations related to government contracts, such as False Claims Act investigations and suspension and debarment proceedings.
Additionally, she assists clients in drafting contracts and agreements, including documents related to corporate governance, teaming arrangements, joint ventures, and mentor-protégé programs. Jackie also serves as one of the Firm's subject matter authorities in the areas of state and local Disadvantaged Business Enterprise (DBE) certifications, the Buy American Act and Trade Agreements Act, and the False Claims Act.
Clients have come to rely on Jackie as a trusted advisor due to her responsiveness to their concerns, open lines of communication, and wise counsel. Without hesitation, she takes the lead on major investigations, coordinating with the PilieroMazza team, special counsel, and client stakeholders. Furthermore, Jackie's handling of matters that involve multiple legal issues and theories are a testament to her legal acumen and commitment to defending the rights of our clients.
Jackie contributes to making PilieroMazza a rewarding environment for our team as co-founder and co-chair of PilieroMazza's Associate Wellness Program, through her formal and informal mentorship efforts, and through her participation in PilieroMazza working groups. In her role as Counsel, Jackie will take on new leadership responsibilities as the Firm rolls out plans for the remainder of the year and beyond.
Jackie earned her law degree from The George Washington University Law School and obtained her bachelor's degree from Virginia Polytechnic Institute and State University. She is barred to practice law in the District of Columbia, Illinois, Maryland, and Washington. Jackie can be reached at [email protected] or 202.857.1000.