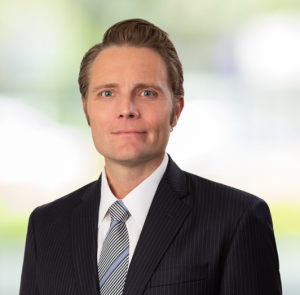 PilieroMazza is pleased to announce the arrival of Mark Rosenow as Counsel in the Firm's Litigation & Dispute Resolution Group. A former trial judge in the U.S. Air Force Trial Judiciary, Mark brings to PilieroMazza more than 15 years of legal practice and experience in complex civil and criminal litigation and high-risk investigations.
Matt Feinberg, the Group's Chair, said: "Mark's diverse experiences give him the perspective to negotiate practical business solutions for clients to avoid costly disputes or litigate when necessary to defend a client's bottom line. We're delighted to have him on the team." Mark added: "Service in the military instilled a profound understanding of what it means to defend the rights of others. I'm excited to start working with the entire PilieroMazza team to protect our clients' interests."
Mark's practice focuses on complex commercial dispute resolution, business litigation, and government investigations, including matters arising under the False Claims Act. Clients from a wide array of industries, including government contracting, receive advice and counsel tailored to their unique challenges and objectives.
During his military service, Mark led litigation teams in 94 trials as both a prosecutor and defense counsel. He also presided over 101 felony and misdemeanor trials as a judge in which he made final rulings on procedural and evidentiary questions requiring expertise in the U.S. Constitution, military and federal appellate court precedent, and the Federal Rules of Evidence.
Mark earned his Doctor of Jurisprudence, With Honors, from The University of Texas School of Law and obtained his Master in Public Policy from Harvard Kennedy School, Harvard University. Mark can be reached at [email protected] or at 202.221.7841.
About PilieroMazza
PilieroMazza serves as a strategic business partner to government contractors and commercial businesses from numerous industries that operate nationally and internationally.  With attorneys from a cross-section of the Firm's core practice areas—including Government Contracts, Business & Transactions, Labor & Employment, and Litigation & Dispute Resolution—working seamlessly as a team to support the legal and business needs of their clients, PilieroMazza attorneys offer thoughtful and thorough solutions to protecting their clients' business interests.  Our specialized knowledge of the law, productive relationships with decision-makers at various government agencies, and value-driven business model, make PilieroMazza uniquely qualified to provide clients with highly valuable and exceptionally skilled representation. To learn more about PilieroMazza, visit us at www.pilieromazza.com.